PRECAST CONCRETE
PRODUCTS
Whether you have a small one-off project for your backyard using a few key concrete pieces or you have a major industrial build project with multiple site requirements for high-traffic areas, Knelsen Sand & Gravel is Western Canada's trusted source for quality precast concrete.
Choose from a range of highly customizable precast options to suit your unique project. Attractive, cost-effective, practical precast solutions for any space, any budget.
Engineered Precast
Concrete Products
Precast Concrete Buildings & Venues
Architectural Precast Elements
Insulated and Solid Wall Panels
Solid Precast Slabs
Stadium/Arena – Pre-stressed Bleachers
Bridge Material
Alberta Transportation Box Girders
Concrete Arches
Box Culverts
Pedestrian Bridges
Precast Deck Panels
Bridge Piers and Abutment Caps
Pipe Line Crossing Structures
Railway Structural Elements
Natural Resources / Energy & Infrastructure
Trenches & Sumps
Containment Walls
Dike Walls
Secondary Containment Structures 
Pile Caps and Pipe Racks
Compressor Slabs
Retaining Walls
Blast Resistant Structures
Custom Solutions
Architectural & Structural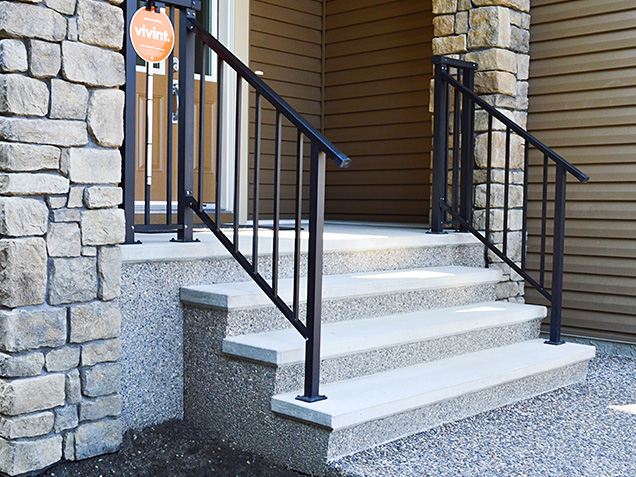 Standard Precast
Concrete Products
Underground Electrical & Communication
Manholes/Vaults & Pull Boxes/Pits
Risers & Adapter Rings
Cabinet & Switching Cubicle Bases
Transformer Bases
Light Pole, Traffic & Signal Bases
Pedestals, Bollards & Guard Posts
Duct Banks & Trenches
Cable Trays & Sleepers (Conduit)
Solar Panel Bases
Mechanical Materials
Sump Tanks & Sump Pump Pits 
Manholes / Vaults & Chambers 
Pipe Trays & Sleepers (Pipe)
Rail & LRT Materials
Crossing Planks
Signal & Communication Bases
Manhole / Vaults & Pull Boxes
Duct Banks & Trenches
Construction Materials
Jersey Barriers & TL3 Barriers
Low Profile Barriers & Stack Blocks 
Pedestals, Bollards & Guard Posts 
Parking Curbs & Splash Pads
Natural Resources / Energy & Infrastructure
Compressor Pads
Pipeline Protection Slabs
Pipeline Weights & Pipe Anchors
Pipe Racks & Trenches
Sleepers (Pipe & Conduit)
Residential Buildings
Custom Steps & Decks
Stairwells & Window Wells 
Standard Steps
Garage Beams
Concrete & Steel Brackets
Landscape & Park Materials
Benches, Tables & Tree Planters 
Splash Pads & Boat Ramps
Custom Solutions
Architectural & Structural
Stair Pads & Ladder Pads
Foundation Blocks & Headwalls
Additional Precast
Concrete Products
High-Performance Concrete Mix
Sulfate Resistant Concrete Mix
Custom Concrete Mix
Pigmented Concrete Mixes
Smooth, Sand Blasted & Exposed Finish
Precast Concrete Services
Installation & Placement Services
Step & Deck Installation
Manhole & Vault Installation
Parking Curb / Curb Stops* (*Calgary, Edmonton, and surrounding areas)

Delivery
Offloading
Installation

Product Delivery & Offloading
Quality Control Services
Inspection & Test Plan (ITP) 
Concrete Test Reports
Material Test Reports
Quality Systems Manual
Quality Procedure Manual
Reach out to our team to receive product pricing information for your project needs.
Benefits of Precast
The benefits of precast insulated wall panels include:
Aesthetically Pleasing
choose from a wide range of styles, designs, and colours to customize your project

Energy
Efficient
Superior thermal insulation for buildings and sites of any size or use
Indoor manufacturing
Excellent quality control of precast products to ensure smooth installations and reduced waste

Load Bearing
Capabilities
Ideally suited for industrial, commercial, municipal, or residential applications
Fire and Sound Rated
Top-quality ratings for fire and sound protection
Low
Maintenance
Spend less time and money on maintenance or repairs
Reduced Lifecycle
Cost
Lower lifetime costs due to higher durability and decreased upkeep
Quick Installation Year-round
Available to install year-round, ideal for changing environmental conditions and helpful in reducing project timelines
Our precast concrete products are available to order across Western Canada for a wide range of industries:
Power utility
ATCO
Enmax
Fortis, AB
Fortis, BC
EPCOR
SaskPower
Manitoba Hydro
BC Hydro
Yukon Electric
Municipalities
City of Calgary
City of Edmonton
City of Lethbridge
City of Red Deer
City of Medicine Hat
City of Saskatoon
City of Regina
See below for examples of our precast products used in recent client projects
Talk to our experts about the best product solutions for your project.